Surgical Orthodontics
---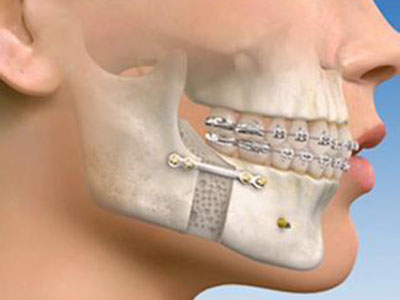 Treating severe cases
Surgical orthodontics, also known as orthognathic surgery, is a type of orthodontic treatment used to correct severe cases that include incorrect bites, jaw bone abnormalities, and malocclusion.
Oral and maxillofacial surgery is a dental speciality, and it focuses on treating complex craniofacial cases that involve the mouth, jaw, face, and skull. If you need surgical orthodontics, your orthodontist will work with an oral and maxillofacial surgeon to ensure that you receive the best continuation of care between providers as possible.
When does someone need surgical orthodontics?
Surgical orthodontics may be used to treat adults with improper bites or other aesthetic concerns. Typically, jaw growth stops by age 16 in females and 18 in males. In order to receive orthognathic surgery, the jaw must be done growing.
The need for surgical orthodontics occurs when the jaws do not line up correctly, and a proper bite cannot be achieved with orthodontic treatment alone. Orthognathic surgery will help properly align the jaw, and orthodontic braces will then be used to move the teeth into their proper position.
How do I know if I need orthognathic surgery?
Your orthodontist can tell you if orthognathic surgery is needed as part of your treatment. Depending on the severity of your case and the alignment of your jaw, you may or may not need surgery.
How does orthognathic surgery work?
Before beginning your orthognathic treatment plan, we'll have you seek the care of a qualified oral surgeon. They will do a consultation and discuss the surgical procedures that need to be done.
Then, we begin your treatment process with braces, and halfway through treatment, you'll undergo surgery with an oral surgeon, aligning the arches to each other.
Once your surgery is completed and you have adequate time to heal, we continue to align your teeth. Finally, once your braces are removed, you'll wear retainers to maintain your new smile.
What are the rewards of having orthognathic surgery?
For many patients, the most important reward of having orthognathic surgery is achieving a beautiful, healthy smile that lasts a lifetime. Whether you need orthodontic treatment to correct a bad bite, malocclusion, or jaw abnormality, orthognathic surgery can help restore your confidence and leave you smiling with confidence for many years to come.